Reading Time:
3
minutes
My dear Wilde,

You are 10 kilograms of love, joy, growth and determination. You are our essence of good and innocence. You rae our a daily reminder of the fact that each and every one of us is born with the light in our souls.You are our source of strength and inspiration. You are our mirror which lets us grow and discover ourselves more with every single day. You are a gift. The most loved and desired one.

Before Wilde was born:

-I achieved what I wanted in my career, so I didn't need motherhood to feel "really important and needed"
-I was fulfilled as a woman, so I didn't need motherhood to finally "feel complete"
-I was deeply loved by Fergus, so I didn't need motherhood to finally "feel that we're a family"
-I knew who I was and what mattered to me the most, so I didn't need motherhood to discover "what truly matters in life"
-I knew that the meaning of life is to get through all the setbacks so I didn't need motherhood "to find out what life is truly about"

Same with Fergus – he was already fulfilled and had a set of values he firmly believed in and a vision of who he was and where he was headed.
Wilde wasn't the answer to any lack or deficiency in our relationship or in us as individuals.
Wilde was born out of abundance. Fergus and I were overflowing with love, joy and gratitude for our relationship and lives. We made good use of our scars and treated them as our own talismans.


Wilde wasn't expected to save or mend anything. All we wanted was for him to simply be with us so that we could offer him all the good we managed to collect over the years.
So we were blessed with the best, most beautiful and perfect child in the whole universe.

After 365 days, Fergus and I, despite some inconveniences, are even more abundant. We wanted to give yet we received so much.
It's been 365 days with our baby son and what I learnt was that the only way to get through the journey of having a mini human is to relax, enjoy the moment and see what happens.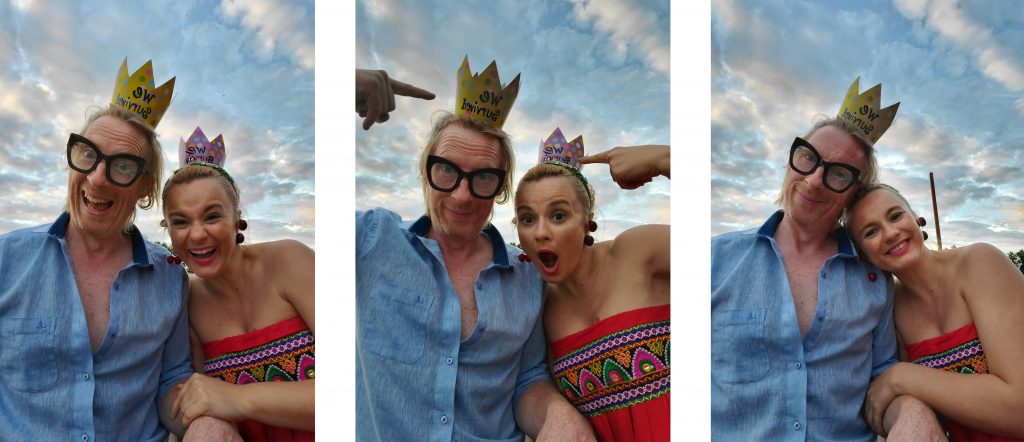 Because I was waiting for a baby for so long – I thought I was ready. I was wrong.

Knowledge helps.
Experience helps.
What helped us the most was a thought that we don't own Wilde. We will be there for him for the rest of our lives, but our role as a parent is not to attach him to ourselves, but to teach him how to fly and be independent.

What also helps in our everyday rollercoaster is mindfulness.
It makes time fly a little slower, which is exactly what you need as a parent.
Spending time with your mini human makes you realize how fast we grow and that unfortunately we tend to forget our potential as we get older.

What helps is being in awe, because never ever have I seen so much determination and ambition like with our little Wilde. Before he could sit, he learnt how to stand. Before he could crawl, he learnt how to walk, which happened at 8 months and 1 week. When he learnt how to walk, he started to run.

Our little boy reminds us that we all have a potential and as long as we have the right attitude, we can do whatever we set our mind to.

What helps is being attuned to your baby without expectations and imagination about how it should be. I wanted to breastfeed my son for as long as I could. But in the end I breastfed as long as Wilde wanted me to. He chose the time and we followed.

What helps is a thought that your baby is the biggest gift from the universe. This way sleepless nights are an opportunity to hug your baby. Changing nappies is an opportunity to play with it. Walking him to sleep is an opportunity to build a relationship. Etc.


We loved our 365 days with our baby boy

I have never experienced so much cuteness, sweetness, care, happiness, joy and love like when I was looking at my baby son's small body, his belly, huge baby eyes, wide baby smile and the way he always giggles.

In every single moment with our Wilde we feel grateful. We can't control everything, but what we can do is help Wilde keep the light he came to this world with within himself. Thank you, Wilde, for letting us enjoy your beauty for the last 365 days. We're excited about the next millions of days that we will get to
spend together.
365 days.

He survived.

So did we.

And we're in love – more than ever before